Please note: In order to preserve the privacy of the children, their pages have been password protected. Upon selecting any of the links for the children, you will be asked for a username and password. Username is your first name, or last name, and password is a combination of the street name on which grandma/grandpa lived, no "St." abbreviation, and the year that grandpa died. So, for example: baker1999 not bakerst1999. (Of course, that isn't the valid data.) If you have trouble accessing the site, or would like a username and password of your own, please email me.
Wallace Otto Crapsey
Born: 18 June 1965
Occupation: Autobody Artist
Location: Toledo, OH
Children:
W/Jennifer Hartz: Megan Louise Crapsey DOB: 04.30.95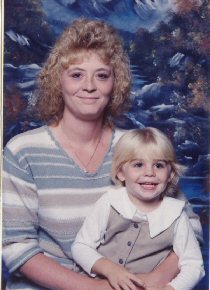 This is Jennifer and Meghan, probably about 1999 or so. (Someone will correct me...)
Page last modified:
All graphics and content ©2006 Kimberly Crapsey, unless otherwise noted.