Please note: In order to preserve the privacy of the children, their pages have been password protected. Upon selecting any of the links for the children, you will be asked for a username and password. Username is your first name, or last name, and password is a combination of the street name on which grandma/grandpa lived, no "St." abbreviation, and the year that grandpa died. So, for example: baker1999 not bakerst1999. (Of course, that isn't the valid data.) If you have trouble accessing the site, or would like a username and password of your own, please email me.
Joseph Leroy Crapsey III
Born: 01 October 1960
Occupation: Contractor/Roofing
Location: Lambertville, MI
Children:
With Janet Wisniewski:

Melissa Marie Crapsey DOB: 08.15.78
Vanessa Elaine Crapsey DOB: 04.15.84
Shana Lynn Crapsey DOB: 04.15.84




With Kim Todak:

Tony Todak DOB: 09.23.87




With Tina Burtscher:

Step Child: Thomas J Burtscher DOB: 02.09.81
Hanna Marie Crapsey DOB: 11.05.90
Trisha Elleen Crapsey DOB: 11.06.91
Joseph Leroy Crapsey IV DOB: 10.31.95
This is a picture of (starting clockwise at Joe..) Joe III, Tina, Joe IV, Trisha, and Hanna. I think it is about 2001 I think. Hanna and Tina both have much shorter hair now.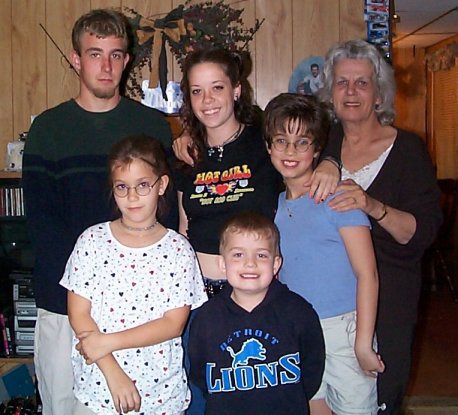 Here is another picture of Joe's big brood. All that is missing is Melissa, Vanessa, and Tony. Does he have a ton of kids or what?! Also included is mom. Front Row (L-R): Trisha, Joe IV; Back Row (L-R): Thomas, Shana, Hanna, and Mom
Visit
Joe's Gallery
to see more pictures of the children. The gallery is for immediately family members only.